Tag Archives:
zoo
I happen to LOVE seahorses – those little sea monsters that are so darned cute and intriguing.  I could sit and watch them for hours.  As a matter of fact, I have.  I have often wished that I had the time required to properly maintain a large aquarium so I could keep them for pets.  When we travel we always go to the local zoo and I check to see if they have seahorses.  Our local zoo (Rosamond Gifford Zoo opened a brand new seahorse exhibit.  It's not super huge like some I've seen but it has a nice layout and the seahorses looked healthy as they swam about.  A few facts about seahorses if you are curious:  seahorses are fish but do not have scales like fish, they have skin that covers bony plates arranged in rings in their body.  Seahorses swim upright and can swim horizontally AND vertically.  Males carry and give birth to baby seahorses.  There is very little data on wild seahorse populations but given how overfished so many other fish populations are I wouldn't be surprised to find out that seahorse populations are overfished as well.  Wild seahorses do not survive very well in captivity due to stress and the difficulty of feeding them a balanced diet of live food.  Captive bred seahorses seem less stressed and will eat frozen shrimp and other frozen foods.  If you are an aquarium owner and want to keep seahorses please do your part and try to ensure you are purchasing captive raised seahorses.  Wild seahorses around the world will thank you.
Here's a picture I took of one of the seahorses at our zoo.  He was just staring at me!  I can't wait to go back and see them again!!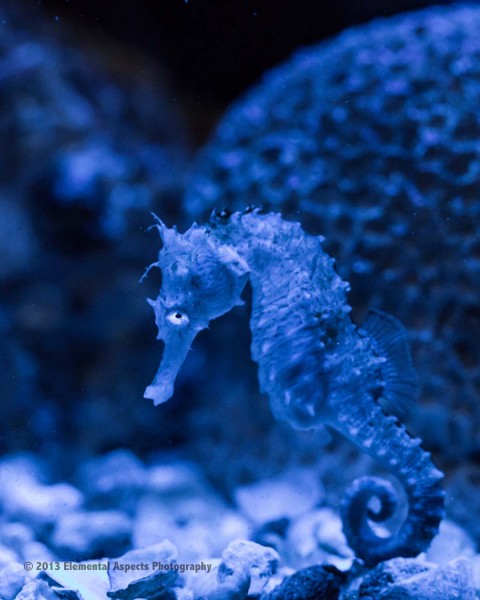 Photo information:  5D Mark III, 100 mm macro lens, using manual exposure – 1/200s, f/4, ISO 6400.  No flash.
If you like this picture you can see some of my other photographs here.
Our zoo (Rosamond Gifford Zoo) is lucky enough to have a little family of Amur Tigers.  These tigers are extremely rare in the wild – experts put the number at just a few hundred as of 2005 (Wikipedia).  This is a photo of one of three cubs that were born at our zoo a few months ago.  I have quite a few photos of them but they are always in profile or laying down or have their backs to me.  Today, for just a moment, this cub just turned and looked right at me for just a quick second.  Luckily I was just a moment away from pressing my shutter button… sometimes you just get lucky!  This photo was taken with my Canon G9, ISO 100, shutter speed 1/160 sec, f/3.5, 16.8mm.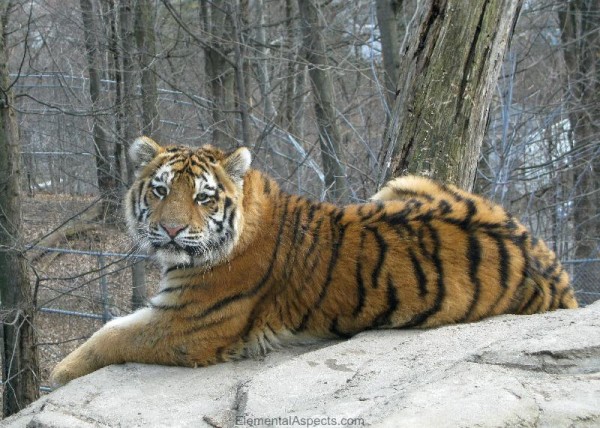 I spent a good part of the weekend at the Rosemond Gifford Zoo.  They have a winter photo contest on that is open to everyone from the age of 4 (!) and up.  There were a quite a few people there taking pictures of the incredibly cute tiger babies, the lions who were being particularly photogenic and in an area where the reflection wasn't too bad on the glass, and the monkeys who were being their usual silly selves.  I decided that I needed to try a different animal… something that most people wouldn't try to take pictures of.  Don't get me wrong – I couldn't help but take pictures of the tiger cubs and other cute fuzzy animals – but for the contest I think I'm going for the fish!  I think in some ways it will be a numbers game and I want to stand out from the cute or stately furry creatures.  So this post is for my friend AMY who works for an aquarium store and knows more about how to take care of an aquarium and it's occupants than anyone else I know.  Plus maybe she can tell me what kind of fish this blue fish is (I know it's not "Dory"…).  I won't be submitting these two particular photographs for various technical reasons -  mostly those darned fish wouldn't hold still so the focus is always somewhere where the fish was not – but I know Nemo wanted to say hi to his pal Amy.